Sunday, June 26, 2011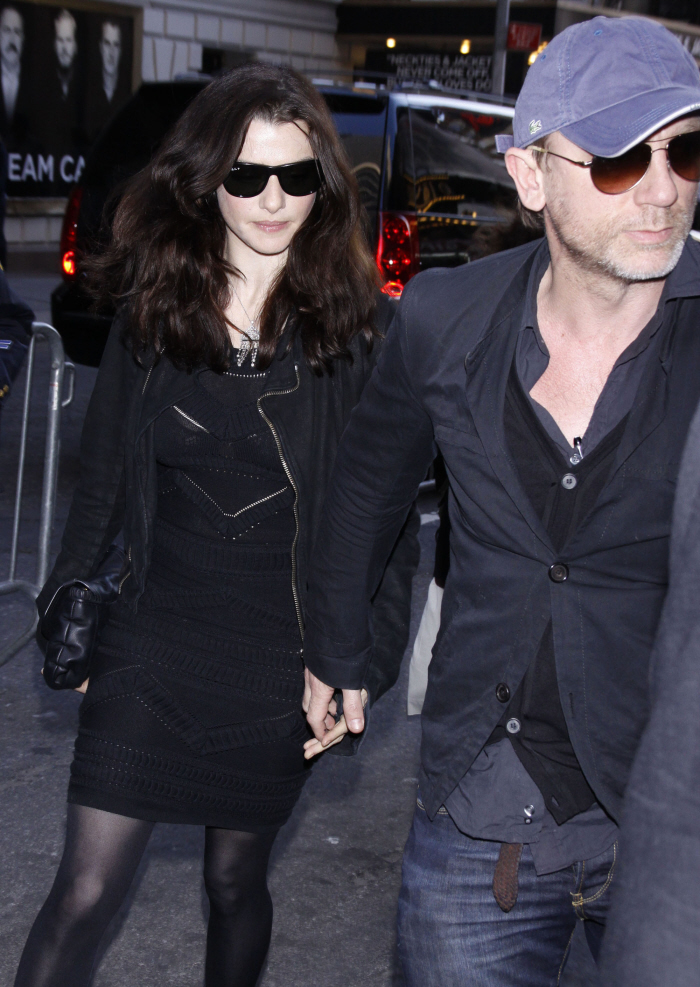 My GOD. Rachel Weisz married her jumpoff! And what a lovely jumpoff he is. According to Rachel's rep, Rachel and Daniel Craig GOT MARRIED on Friday in upstate New York. Um… they're both British? Why not get married in England? Maybe they were celebrating
New York state's gay marriage vote
, especially considering Daniel Craig likes to
roughly French kiss dudes outside of gay bars
?!? This makes no sense, on any level other than: HOT. Rachel and Daniel are in a mutual dong-and-biscuit-lust/haze. They split from their partners last year - for Daniel,
he split with long-term girlfriend Satsuki
, for Rachel,
she split from her baby-daddy Darren Aronofsky
- so maybe they just had a
"BAM!"
moment of
"This is right, we must do this, and it must be hot."
Or, you know, Rachel could be knocked up.
Release the doves! Rachel Weisz and Daniel Craig got married Friday in upstate New York, Weisz's rep confirms to Us Weekly.. Craig, 43, and Weisz, 41, costar in the upcoming horror film Dream House, which will hit theaters in September 2011.

Weisz split with beau Darren Aronofsky, a producer, in November 2010. The two have a son together, Henry Chance (5). In December 2010, only a month after ending her nine-year relationship with Aronofsky, Weisz and Craig were spotted packing on the PDA in the Englsh countryside town of Somerset.

The James Bond actor was married to actress Fiona Loudon from 1992 to 1994. The two have one daughter together, Ella (19).

After only a few months of dating, the sexy British couple was spotted "making out" at an anniversary party for NYC club, The Box, in February. "They were adorable," an observer told Us, adding that the lovers left their table and "started dancing… and they were kissing!"
So… Rachel could never be bothered to marry Darren, Daniel could never be bothered to marry Satsuki, and now suddenly they're both "Let's Get Married!" people? I'm not a marriage person either, but I am a person who appreciates consistency. Still, I'm not going to yell about it. Mostly because I'm really turned on at the thought of Daniel and Rachel consummating their marital love. As far as joint hotness goes, in my mind, they're right up there with Brangelina and Paul Bettany/Jennifer Connelly.
Congrats to the happy couple (and what I'm sure is a baby on the way)!
Note:
People Magazine
and
The Mail
are claiming that Rachel and Daniel got married on Wednesday, not Friday. I don't know which is right.