Thursday, December 2, 2010
Short on cash to pay for security and worried about the dangers this world may throw at her, Heidi Montag is dedicating all her efforts to self-defense.
"I can't afford security, so I practice self defense and chain punching," she tells Radar Online, noting that she's learning martial arts to protect herself.
Although she used to have a posse of bodyguards on hand, as her breasts have ballooned, she and husband Spencer Pratt have fallen on lean times.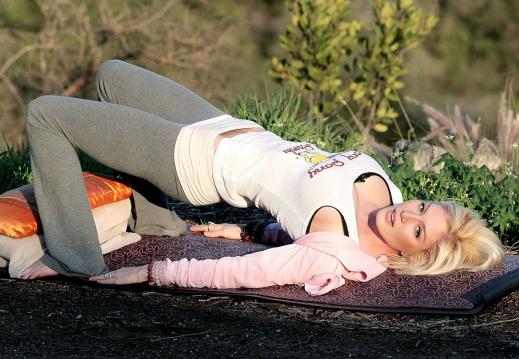 GETTING LIMBER: Heidi preps with some yoga. [Photo: Pacific Coast News]
"I have spent millions in security in the last four years because I had to take care of the cost myself. It's crazy and it's hard, but life is not always fair."
Poor baby, blowing untold sums of money on wholly unnecessary things. Surely her
plastic surgery obsession
didn't factor into her financial woes at all.
Read more...